Ross on Wye Cider Tasting Box
Welcome to the Tasting Guide for our special Single Variety Cider Tasting Box from our friends at Ross on Wye Cider! Mike and Albert Johnson are amongst the best cider makers in the country and grow an amazing range of different apple varieties on their Herefordshire farm.
We're delighted that they have put together this very special tasting box for us, featuring five different single-varietal ciders and an exclusive blend featuring all five. See below for more information about the box and some background information about the farm.
This is our April case for subscribers and we have a few extra available for purchase as a one-off box but we really do only have a limited number of these so when they're gone they're gone!!
Ross on Wye Cider & Perry
The Johnson family have been lucky enough to be on the farm since 1930, and whilst sadly the last tree dated to then fell down at Christmas 2020, the history and heritage of our farm and of our area has always included apple trees and cider.
Two of the varieties in your box, the Bulmers Norman and Tremletts Bitter ciders, are grown from trees in 'The Old Orchard'. This is the orchard that was here when we arrived in 1930, and at that time it featured a range of different eating varieties and local varieties. In 1934 several trees were added, though without the intention to focus on making cider as a serious venture. The focus of the farm for the next several decades was on traditional mixed agriculture and livestock, with sheep, cattle, horses, potatoes, raspberries, strawberries, gooseberries and more all being part of the farm at different times.
Today the oldest trees in this orchard are the Bulmers Norman and Tremletts Bitter trees, planted sometime in the 1960s. Unfortunately Honey fungus grow in this orchard which shortens the lifespan of our trees, as well as in the last two decades, the prevalence of mistletoe all across Herefordshire and our village makes it more of a threat to the trees.
In 1978 the first orchard was planted under contract with H. P. Bulmer, aka Bulmers and was a two acre orchard of Dabinett & Bisquet. It was an experiment to begin transitioning the farm into a more reliable form of income – Bulmers guaranteed to buy the apple crop for the period of 20 years, and helped you establish the orchard.
Herefordshire is an ideal place to grow cider apples, and Ross on Wye in particular is in a very good spot. Our climate is mild, as we are shielded by the Malvern Hills, the Brecon Beacons and the Black Mountains from extreme weather. Our drainage is very strong with sandstone forming the basis of our soils. Our trees therefore – usually – get good chill hours in the winter, comfortable growing conditions with not too many late frosts which can destroy blossom, and usually we are ok in the harvest window. In recent years of course this has all been thrown up in the air – our weather, like everywhere, is now significantly more variable and there have been challenges to our fruit quality and harvest as a consequence.
Back in time though, and everything had started well – so in 1984 we added the 'Gameoolands' (a slang for 'wet lands', as there is a marsh in the wooded area below it on the map), an 8 acre orchard again of Dabinett & Bisquet. It is in this orchard, from early ripening Bisquet, that the apples came from in your bottle.
Between then and 2001 we kept adding more orchards to sell the fruit to Bulmers. A quirk of planting an orchard is that you sometimes end up with a few too many trees, and so Mike used these overflow trees to start planting an orchard for our own use, which is the 'Strawberry Field Orchard' on the map – you guessed it, this is where the strawberries used to be grown.
Strawberry Field became a hodgepodge of overflow trees from the surrounding orchards, and more unusual varieties that Mike wanted to plant out of his own interest in growing and seeing different apples. Thus it was that we ended up as one of the few cidermakers to have one row of Ashton  Brown Jersey, and two rows of Reinette d'Obry, neither variety being grown widely commercially.
How do we make cider?
We make the cider today in a very similar way to the early years of Kenelm and Mike. The objective remains the same. To make delicious, clean, expressive and individual cider with the minimum necessary intervention.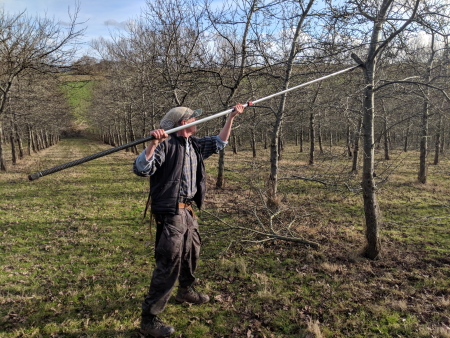 The cidermaking cycle goes as follows.

We prune the trees in the winter, by hand, using long polesaws. We try to visit each tree at least once every three years, though as we're a small team sometimes we miss our goal!
The trees, if they are happy and healthy, will blossom in the spring – with pears it is usually late March and into April, with apples it is generally late April and into May. A warmer, dryer spring is ideal for the blossom. Good temperatures encourage the most insect activity which pollinates the trees, and dry conditions prevent fungal or bacterial diseases damaging the blossom or leaves.
Then we hope for a good summer – ideal conditions are moderate, preferring more sunshine to less. You of course need rain for the apples to grow, and sunshine for sugar to develop. The more sunshine the more sugar, which means the more alcohol, which often means more flavour. As a producer though there is a trade off with how much alcohol is too much. In 2018 we had such a good summer that the typical ABV of all our ciders was 7.5% – not exactly session strength! As the climate changes and we seem to be getting hotter and hotter summers, the trend for average alcohol in our ciders is definitely going up.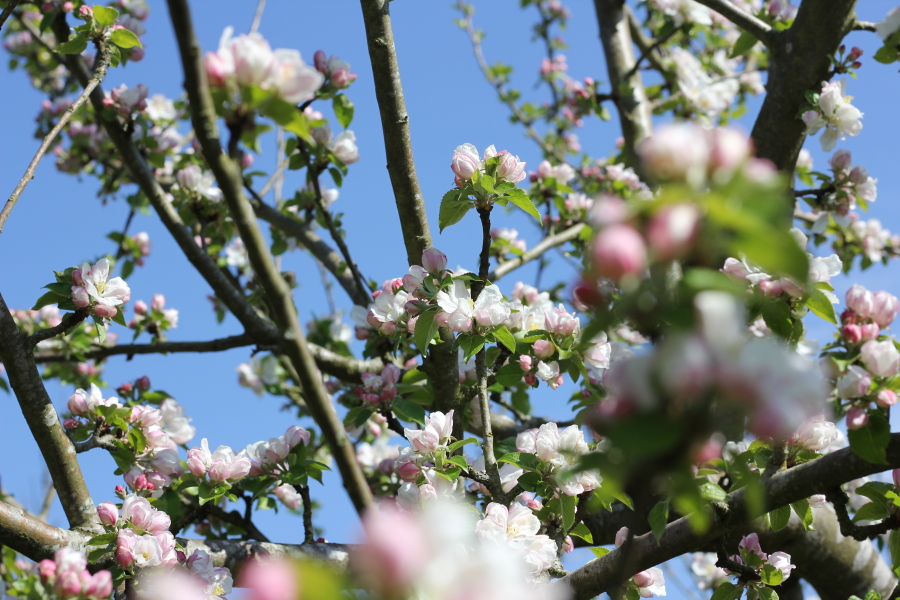 Harvest runs from the beginning of September all the way through until the end of November, and some years even deep into December. Each variety has a different window of ripeness, so we move through all the apples as the weeks go by.
We no longer sell our apples to Bulmers, so all the fruit we grow is our responsibility to make good use of! We let the apples fall to the floor, as they will continue to ripen in the grass, and then harvest them by machine. The apples are then washed and hand-sorted, which is both the most time consuming part and also the most critical, and then 'scratted' to turn them into a pomace, and then pressed.
The juice goes into barrels – a mixture of oak and plastic – and we add the minimum necessary sulphite to ensure we avoid a bacterial infection in the fermentation. It is a small enough addition that the wild yeast that are native to our orchards and our cider barn are still healthy enough to ferment the cider. This spontaneous ferment gives our cider unique character – the yeast strains are the ones happy in our environment, if you fermented wild in someone else's barn, you'd have different yeast. With that said, the yeast is only one factor of the flavour of the final cider, by far the most important is the apple variety.
Fermentation time can vary hugely on different varieties, from three weeks in some cases to as long as six months. Even after fermentation is complete however, the cider will continue to evolve and develop. There is so much going on in the cider in the months that follow that improves the flavour, as the tannins soften, the acidity mellows and the juiciness can become more expressive. The average time it takes for a cider to go from being pressed to being put on the shelf is around 12 months, but it can be even longer when we feel its the right decision.
When we feel a cider is ready, we will bottle it. Our favourite style is bottle conditioning – this is when a cider goes into bottle with about 5g per litre of plain sugar with it. That sugar will ferment in the bottle to give us a natural fizz – but only a little one. Bottle conditioning is about creating a platform for the cider to shine on – we want the taste to be kept fresh and alive by the in bottle fermentation, but the focus should be on the delicate flavours of the individual varieties, rather than being overwhelmed by bubbles!
The Assembled Six!
Drink from left to right! Have some fun, and nerd out!
If you can, open them all at once. Try a small glass from each bottle individually. They are listed here in order of lowering acidity and greater tannin. Drinking them in this order should help you appreciate the changing individual flavours, as the intensity grows with each drink.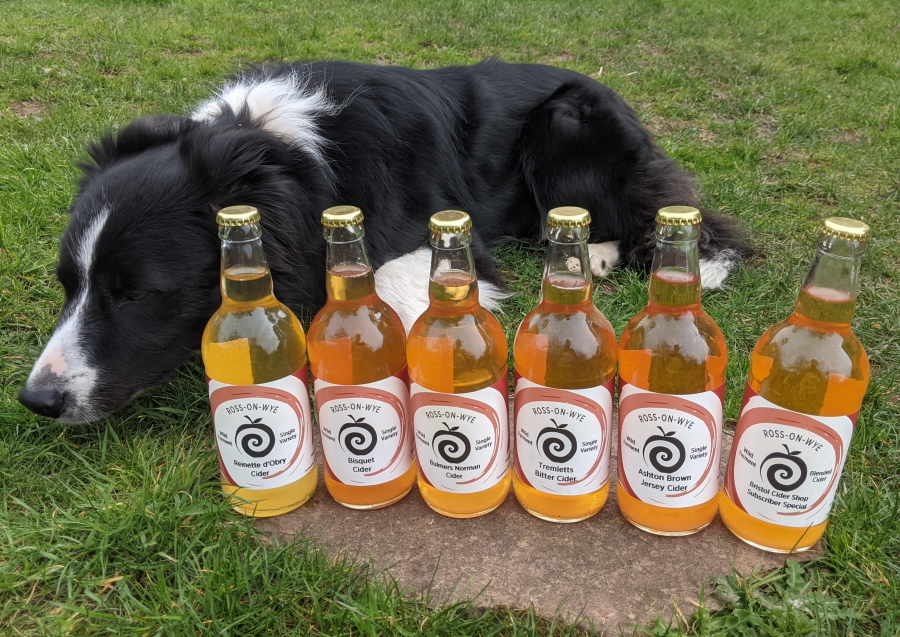 Once you've tried them all, have a taste of the blend – can you pick it apart and spot the individual varieties coming together? What are your tasting notes for the mix of them?
I would love it if you would head to https://ourpomona.org/ and share your tasting notes. It's a people powered database we're trying to build of tasting notes for different varieties. There is no wrong answer!
Ideally you would be drinking these with some protein – like cheese – which will help unbind the tannins from your tongue, letting you taste each cider 'as fresh' as you go through, to get the full intensity of flavour.
Happy tasting!
---